Learning to ring
---
What's involved


The first stage is learning to handle a bell. Think of it as a bit like learning to stay on a bike safely. These initial lessons are hands-on, with your tutor closely supervising you.
When you can handle the bell safely, you need further exercises to learn how to control the bell, to make it ring faster or slower. (Think of it as like learning to cycle in a straight line, and turn corners when required.)
Thus far, you have been ringing a bell on its own. The next step is learning to synchronise the timing of your bell with others. (Think of it as cycling in formation, six or eight abreast.) You might do this initially with the aid of a simulator, but in due course you will be ringing with a room full of other ringers. This is what it is all about, and when you can do it reasonably well, you will be expected to take part in regular service ringing.


From now on, most of your training will be in general practices with the rest of the band. They, as well as you, will have things they want to achieve, so the time in practices is shared out, with each piece of ringing (a 'touch') intended to benefit different people. A lot of a ringer's time is spent ringing things to help a fellow ringer. At first, you are mainly a beneficiary, but as you progress, you can increasingly ring things that help other people.

Although you are now 'a ringer', it is only the start in terms of the skills and interests that you can go on to develop, and you will normally be expected and encouraged to progress further. The next step is change ringing, and it is a step that has no 'end'. (Think of learning new methods as like an instrumental player learning new pieces of music.) You start with very simple things, and progress to more complex ones. How far you progress will partly depend on the repertoire of other ringers in your tower or in your area, but mainly on you.
Young ringers often find that going to university gives them a huge boost. Many of the university ringing societies are extremely active.
How long does it take to learn? How long is a piece of string! There is no 'normal' time. Many things affect your rate of progress: individual aptitudes, how regularly training takes place, how long training sessions are, how easy the bells are, and so on.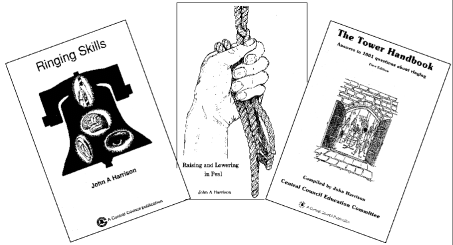 There are many training publications available for ringers. These are just three (written by an All Saints ringer). Click here to see a ringing bibliography .

---
Why learn?
Like learning any new skill, it takes a bit of effort and commitment to get over the initial hump, but it is worth it. Once you can control a bell competently, the opportunities open up. There are different methods to learn, different bells to ring, different towers to visit and different people to meet. What you achieve, and how much you get out of ringing, is as much as you want.
In terms of where and with whom you ring, the world is your oyster. In terms of what you ring, you will never exhaust what is available in terms of technical opportunity for intellectual challenge. And once you are a ringer, a whole host of related areas of interest open up. The health of ringing relies on the many people involved in training, bell engineering, tower management, bell maintenance, and relationships with the general public. Subjects like ringing history or change ringing theory can provide anything from simple fascination to pushing back the boundaries of knowledge. Not everyone ascends the heights of course - many ringers get great satisfaction out of just ringing well and enjoying the friendship of other ringers - but in ringing there is always more if you want it.
Some of the things ringers say about why they started:
"I live across the road and hear the ringing. I thought I would like to be involved".
"My children learnt to ring, and I thought if they can, so can I".
"The tower was short of ringers , so I had a go. Then I got hooked".
"I went along out of curiosity, had a go, and never looked back".
"It's nice to be helping to keep such a valuable tradition alive".
"I married a ringer, and realised I would see more of her if I rang too".
"It's something I always thought about doing, but never got round to until now".
"I learnt to ring years ago, but it's like riding a bike, you never completely forget, so now I've got more time, I took it up again".
---
When to learn

There's no time like the present. You can learn to ring at any age. Learning takes longer as you get older, but aptitude and attitude seem to be more important than age alone. Some of our fastest learners were in their 40s. We have taught nine year olds, people in their fifties, and most ages in between. Ringing is a lifelong activity – some people keep ringing into their nineties – so there is plenty of time to reap the rewards of learning. Ringers come in all sizes too, as can be seen from this picture of a group of our recruits a few years ago.

---
Learning at All Saints
As a trainee ringer at All Saints, you will be allocated to one of our experienced tutors. Individual tuition sessions will be arranged when, and as often, as is convenient for you both. If you can make more than once a week, you are likely to make better progress, but we are flexible. When you can ring with the rest of the band, you will be expected to attend practices regularly (on Monday evenings). We also encourage you to come to the pre-practice sessions, where you can continue to develop your individual skills, and we may arrange additional training sessions at other times.
When you can ring rounds reliably, you will be expected to play your part in all regular ringing (mainly Sunday morning and evening see full details of ringing times ). You will also be eligible to take part in wedding ringing, for which there is a modest payment (but it might not seem so modest if you are still at school!). You will also take part in outings, and other events.
If you are interested in learning to ring, or if you are just curious to know what is involved, then please contact us .
---