---
Did you know? : The first peal at All Saints rung by a local band was on 5th February 1910, in honour of the Rector's birthday.
---
Tower roof
The stairs lead directly to the roof, which provides a popular viewpoint when we have tower open days. The roof is leaded - flat round the edges, with a shallow slope leading to a small central platform that provides the anchor points for the flag pole.
The clock bell is on the west side, just behind the parapet. This is unusual for a tower with bells, where the clock would normally strike on the Tenor (biggest) bell. This clock bell is far smaller than the Tenor, with a rather harsh sound. It has no founders marks.
Prior to the work on the tower exterior stonework in 2005, there were test patches (in various colours) of render material on the inside of the parapet walls. They are still present, as a historical record, now that the whole walls are rendered with the final colour. (The pictures below show the roof before restoration.)
Pictures
---
Views from the tower
There are fine views over the town and surrounding country. The map below shows the direction of general views and items of interest, from the tower (the circle in the corner is the stair turret). Click on each feature to see the picture, or see them below.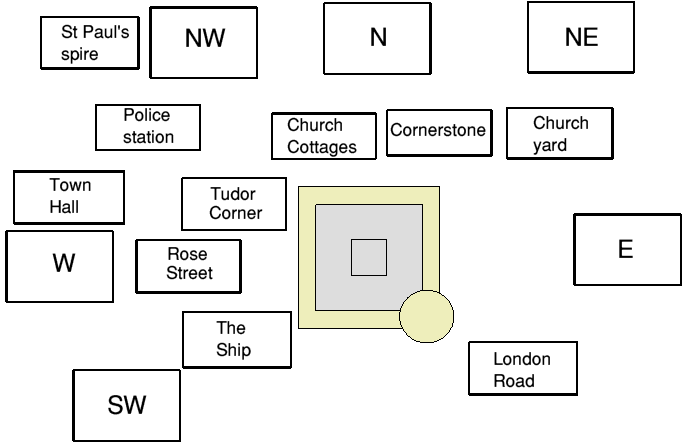 ---
View pictures
Click each to enlarge and move between pictures using the arrows.
For pictures of snow damage to the Cedar tree in 2010, see here .
---