---
Rev. F E Robinson commemorated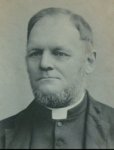 This year is the centenary of a great Victorian ringer who died on 16th February 1910 and was buried at All Saints three days later on 19th. Francis Edward Robinson was born in Begbroke, Oxfordshire on 6th January 1833, and grew up in Stonesfield. His father was a clergyman, but Francis Edward didn't go into the Church until his mid thirties. Prior to that he worked at the Old Bank in Oxford. For the major part of his ministry – some thirty years – he was Vicar of Drayton, Berkshire (now Oxfordshire). He moved to Wokingham in 1908 after serious illness persuaded him to retire, but he made a remarkable recovery and became as active as ever.
He learnt change ringing after a visit to Appleton in 1859, where he was taught by Alfred White (of Whites of Appleton Bellhangers, who rehung our bells in 2004). He went on to become one of the most prolific ringers of his day. He rang in many record length peals, some taking 8 or 9 hours, and he became the first person ever to ring 1000 peals, which he achieved on 9th August 1905.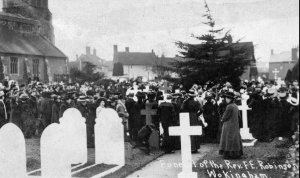 He wasn't just a practical ringer, he was also a reformer and organiser. When a Diocesan Guild of Bellringers was proposed by Rev. Dolben Paul (one of the ringing clerics who had founded the Sonning Deanery Society of Change Ringers the previous year) it was FE Robinson who rose to the challenge by presenting to its inaugural meeting in 1881 a ready made plan for how it should operate, with himself as a key player. He became the Guild's first Master, a post that he held until his death in 1910.
Although he achieved his fame before coming to Wokingham, we feel a special attachment to him. His grave has been kept tidy by a ringer for the last 25 years, and key anniversaries have been marked by special ringing here. There was a peal on the day of his funeral, recorded by a peal board in the tower. There was another peal in February 1990, 80 years after he died, and a quarter peal (after an unsuccessful peal attempt) in August 2005, on day of the centenary of his 1000th peal. This year there was a peal on the centenary of his death, and a quarter peal a few days later (after another unsuccessful peal attempt).
There is more information about FE Robinson, on the tower website: --here--
John Harrison (March 2010)
---