---
Former ringers
When I wrote the book on the history of ringing at All Saints my research uncovered a lot about former ringers here, some of whom had fascinating stories. I recently found out more about one of them.
Gwen Crockford and her sister Barbara were among those who learned to ring when ringing resumed after the wartime ban was lifted. Mary Cole was another, who many will remember since she stayed here until she dies in 2014. She gave me this picture taken on a ringing outing in 1949.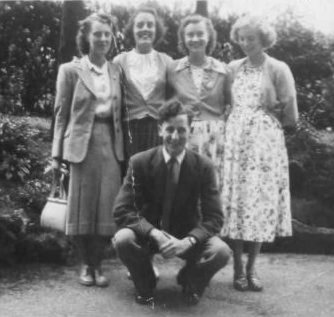 L-R: Pat Newport, Mary Cole, Gwen Crockford, Barbara Crockford and Walter Newton
I knew that Gwen Crockford served as Tower Treasurer in 1951 to 1953 but that was about all. Some months ago a picture of her in Police uniform appeared on the Memories of Wokingham Facebook group. But I didn't realise she had been a pioneer until I read the book Calling WPC Crockford, written by her daughter. Gwen was one of the first WPCs in the Berkshire Constabulary and the first female detective in Berkshire.
Reading the book not only portrayed her colourful career but gave insights into what 1950s Wokingham was like, when life and social attitudes were very different from now, including presumptions about the role of women.
Of the 275 people who have rung at All Saints since 1880 there are stories of over 40 at: allsaintswokinghambells.org.uk/stories/
John Harrison (April 2022)
---