---
Muriel Longhurst (1936 – 2021)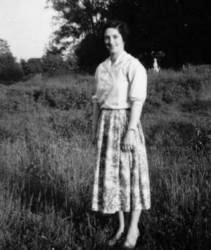 Muriel's family has a long connection with All Saints. Her grandfather Frank Collins was gardener to the Marquis of Downshire who lived in Rose Court, and is buried with his wife at All Saints. Muriel's family had moved to Ascot before she was born, but following family tradition she was christened here, by Gilbert Thurlow who was curate at the time as well as being an active bellringer.
While Muriel was at college in Salisbury a friend introduced her to ringing, which she found intriguing so she joined the band at Binfield and learnt to ring. Shortly afterwards she moved to Wokingham and joined the All Saints band. She was an active member, ringing quarter peals and organising outings.
In 1966 she got a job in Brigg, Lincolnshire, but when home for holidays still rang here until 1979 when she sold the family home in Wokingham. She rang at Grimsby and then Danbury, Essex but gave up regular ringing in the early 1980's after a shoulder injury, and with pressure from family and work.
Muriel was a teacher by profession and did pioneering work on the use of study skills. She taught at Edgbarrow when it first opened, and was later a Headteacher in Bromley. She then used her experience to train other professionals. She travelled widely.
She retired to Farnham, and later moved back to live in Wokingham where where she remade contact with the ringers and attended several tower dinners. She remained active in retirement, and served as a health watch volunteer in Wokingham.
She died in February 2021 and a quarter peal was rung in her memory. It couldn't be a tower bell performance because of the current restrictions and so was rung on handbells outdoors, see: bb.ringingworld.co.uk/view.php?id=1428964
John Harrison (April 2021)
---