---
Twin peals at both Wokingham churches
Wokingham has had two rings of bells since St Paul's bells were installed in 1864, and two rings of eight since All Saints were augmented from six to eight in 1903. The two parishes have always had separate bands of ringers, but we often work together and support each other. For several months we have been planning a major collaboration, to ring a peal at both towers on the same day.
A peal is the 'gold standard' ringing performance, with 5000 or more changes, and taking about 3 hours to ring. Over the years many peals have been rung at both towers, with a joint total just short of 150, but only once, on 27th April 1912, have peals been rung at both towers on the same day, and that was not by a local band, but by visiting ringers.
We began discussing the idea last year, but we had to find a suitable date. For extended ringing, we didn't want it to be too hot or too cold, and we had to avoid weddings and other events in church, as well as other events in the ringing calender.
Eventually, Saturday 10th May emerged as the chosen day for the attempt. We will ring at All Saints in the morning, starting shortly after 9am and finishing some time after midday. That will give us just time for lunch before starting again at St Paul's at 1.30, since we need to be finished before the 5pm service.
All of the band are experienced peal ringers, but even so a total of six hours continuous ringing will be a test of concentration as well as stamina, in order to succeed.
... and afterwards ...
Last month I wrote about plans to ring peals at both Wokigham churches on the same day, which had only once before been achieved in 1912. The ringers in 1912 all came from outside Wokingham. Among them was Revd CWO Jenkyn , whose picture hangs in the tower here at All Saints. He was Master of the Oxford Diocesan Guild of Church Bellringers from 1910 until his sudden death in 1933. The rest of the band were well known ringers from Guildford Reading and Caversham.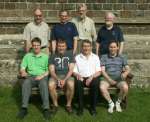 In contrast, the ringers on 10th May this year were all local: four from All Saints, three from St Pauls and one, who though not resident in Wokingham rings regularly at both towers. The method for both peals was Yorkshire Surprise Major. Nigel Mellor conducted the morning peal at All Saints and Ken Davenport the afternoon one at St Paul's. The hard work of ringing the Tenor (the heaviest bell, which at both towers weighs 3/4 ton) was also shared, with Jon Tutcher ringing it at All Saints and John Harrison ringing it at St Paul's. The picture taken just after finishing, shows the band looking very fresh despite six hours of ringing, and despite the fact that only half of them had ever rung two peals in a day before. Click the picture to enlarge.
John Harrison ( April - May 2008 )
See also the article that appeared in The Ringing World.
---