---
Arthur Moss – bellringer
Arthur learnt to ring in 1995 when he was in his mid 50s, some 15 years after his daughter Hilary who had learnt while she was at school. His life a shift worker meant missing many practices, which made progress harder than it would otherwise have been, but he went on to become one of the band's most reliable ringers over a period of 15 years.
For ten of those years he served as Steeple Keeper (responsible for looking after the hardware). He stood down when he considered himself not agile enough to climb over the bell frame but he continued to help with maintenance jobs for many years after 'retiring'.
Arthur played a leading role in the bell restoration project in 2004, with his white boiler suit standing out from both the bellhangers and the other ringers and parish volunteers who assisted them.
He applied his practical skills to improvements ranging from the safety rail on the clock winding platform to the steel reinforcement on the tower door after vandals tried to smash their way through it.
As well as looking after the bells, Arthur faithfully wound the clock every week (until the auto-winder was fitted shortly before he stood down), and on tower open days he was always happiest in the clock room explaining its workings to visitors.
Cheerful and willing to help, Arthur will be missed by those who knew him.
The pictures show Arthur winding the clock and helping to install a bell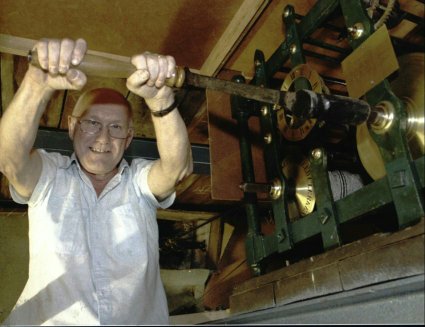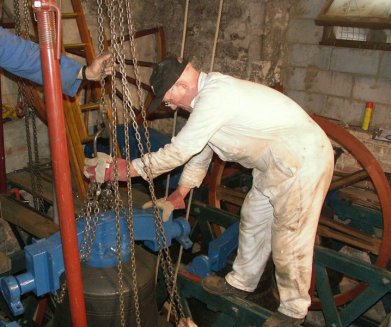 John Harrison (September 2021)
---