---
A ringing tribute
The last Rector to serve 25 years here arrived in 1904 (the year after we first acquired eight bells) so it was natural to mark David's 25 years as Rector with special ringing, which in normal times would have been a quarter peal before the evening service. There wasn't a service but we rang anyway, and posted notices outside to inform passers by why we were ringing, as we normally do when ringing for special public events.
Ringing for most events is on Saturday mornings with plenty of passers by, but as I put up notices on a quiet, dark January evening I wondered whether anyone would see them. (In fact there was a crowd of people round one of the notices just before we started, which was encouraging.)
As I approached the locked church door I saw what I assumed were early arriving ringers, but which turned out to be David and Lorraine. They had come to thank us (in advance), with gifts of home made macaroons.
The method we rang was Pudsey Surprise Major. It's one of the so called 'Standard 8' Surprise Major methods so it's known to most advanced ringers. But it's the least rung of the eight, and people tend to make mistakes in it so it has a 'reputation' and many ringers avoid it.
We chose it because of its special significance. Like many ringing methods it's named after a place – Pudsey in West Yorkshire – which is where David grew up. We also rang a peal of it to welcome him in 1997.
The picture shows the band that rang, and performance details are at: bb.ringingworld.co.uk/view.php?id=1484886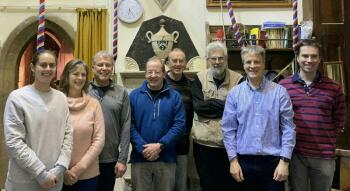 John Harrison (xxx 2021)
---