---
Anniversary ringing
There's normally no ringing for evening services in August, but 9th August was planned to be an exception with a quarter peal for David & Lorraine's 40th wedding anniversary.
We discussed the possibility of ringing Pudsey Surprise Major – David grew up in the town of Pudsey and we rang a peal of it for his induction). Pudsey is least popular of the so-called 'standard eight' Surprise Major methods and is at the upper end of our repertoire.
But that all turned out to be academic since the current restrictions on tower bell ringing would not allow a quarter peal anyway. Then we hit on Plan B. Some of our ringers started ringing outdoor handbell performances when it became legal to gather outside, and we decided to mark the occasion by ringing a handbell quarter peal instead. In fact, we rang two – Kent Treble Bob Major in the morning and Plain Bob Royal in the afternoon.
9th August turned out to be an extremely hot day, and ringing in direct sun for the best part of an hour would have been unbearable, so the chairs needed to be in the shade, and to stay in shade as the sun moved all the shadows round while we were ringing. We got the predictions right and all went smoothly.
Afterwards we gave Lorraine & David a card with the details of the performances, as a memento.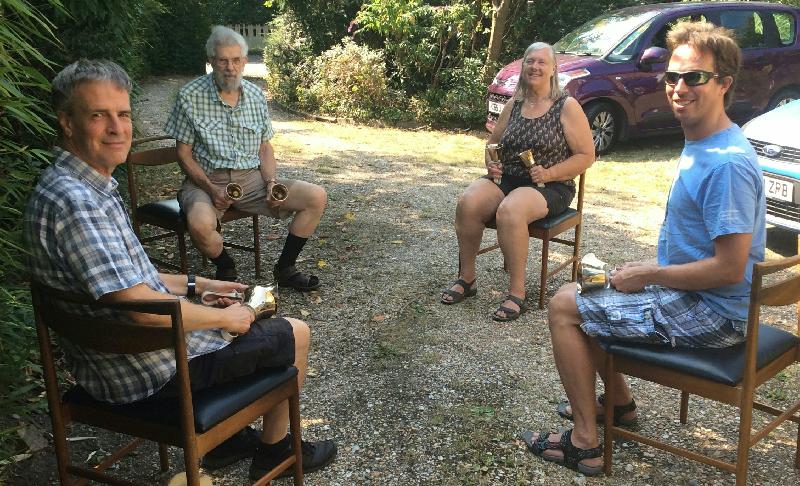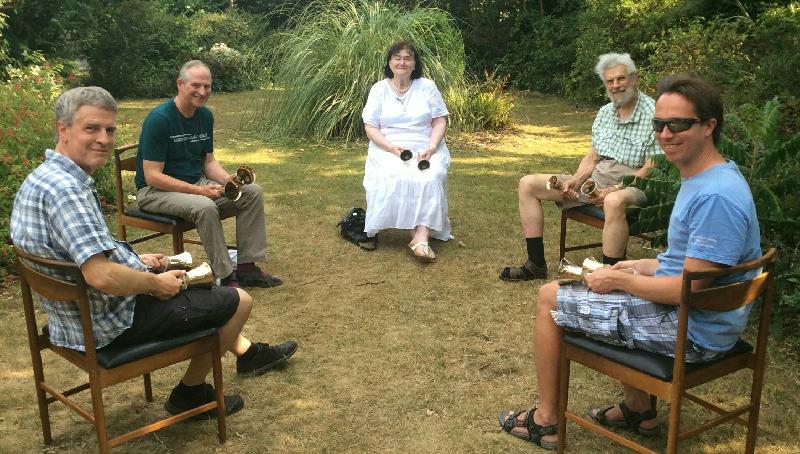 John Harrison (August 2020)
---