---
Installation of gallery screen
We are finally approaching the culmination of the project to install a glazed screen in the arch between the ringing gallery and the nave. It began as a part of the Celebrating Community project, along with restoring the bells, and it will be funded from money in the celebrating community bell fund. When it became clear that the heritage issues would take time to resolve the two parts were split, and the work on the bells was completed in 2004.
The long years since have seen a programme of environmental monitoring to assess the effect on the building fabric, followed by the development of several successive designs in an attempt to overcome the reservations of English Heritage (now Historic England). As a result the screen will be on the gallery side of the arch to make it slightly less visible from the nave, which will lose some of the usable space within the ringing room.
The project's aims are to provide both acoustic and thermal separation. Acoustic separation will permit ringing and music rehearsal (or any other noisy activity) in church at the same time without interference. Thermal separation will mean the ringers don't get intolerably hot when the church heating is running. (You would be surprised how hot it can be at gallery level while being comfortable in the pews.)
The screen will be made of thick toughened glass (in three horizontal pieces with sealed joints). A timber base unit (below the sight line) will regain some of the lost working space. Sound absorbent drapes high on the gallery walls will compensate for the hard reflective surface of the glass in what was an open space, to restore the ringing room acoustic.
The scaffolding will be erected at the back of the nave in late July and remain through most of August. The work involves: move electrical cabling from around the arch, erect scaffolding and accurately measure the arch, manufacture the frame and base unit off site, install the frame and make accurate template for the glass, manufacture and drill the glass off site, install the glass and seal the joints, reinstate electrical cabling in the ringing gallery, and finally install acoustic drapes.
The work will be complete in time to enable a return to normal at the start of September. We will keep disruption to a minimum but if there are any problems, please tell me (0118 978 5520) or Anne King (07768 923608).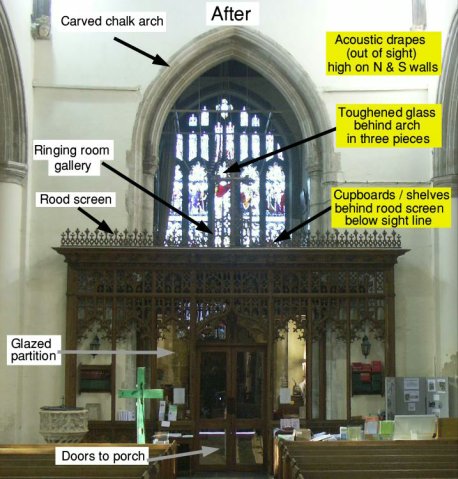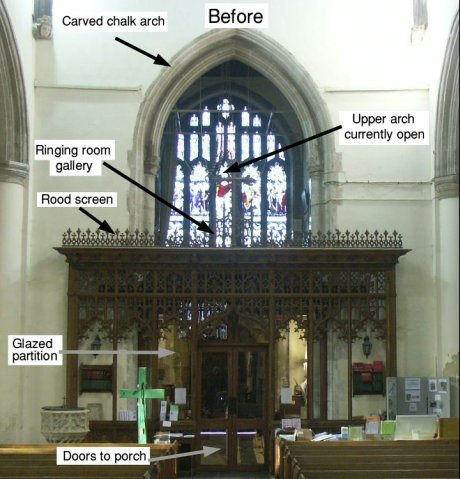 John Harrison (July 2016)
---