---
A busy time in the tower
The last couple of months have seen the work to install the screen between the ringing room and the nave. From below you won't see much difference, if any, since the glass is transparent. What you will notice is ringing for all the main Sunday services, whereas for the last couple of years it's only been possible to ring for about half of them. The ringers can now hear the bells, isolated from the noise of pre-service music rehearsals. The ringers will also be protected from excessive temperatures when the church heating is running. So if you see them coming down after ringing they should look fresh rather than wilting.
The work was completed just in time to open the tower to the public for as part of Wokingham's contribution to Heritage Open Days. We have done this several times in the past but this year is special because the Central Council of Church Bellringers has teamed with the national organisers of Heritage Open Days, to give a special focus on the heritage of ringing, with far more towers than normal open across the country. On the day we had over 100 visitors.
October will also be busy. On Saturday 1st an All Saints team will represent Sonning Deanery in the Oxford Diocesan Guild 6-bell striking competition held at Penn, Bucks. The standard is invariably high so we will be competing with the best teams across the Diocese.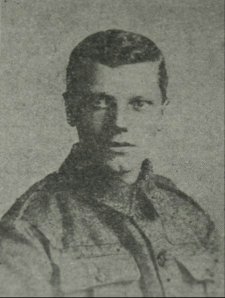 On Friday 7th we will be commemorating the centenary of the death in 1916. of Albert Victor Loader, who was a ringer at All Saints. He was born in 1897, went to Palmer Church of England School and worked in the Town Clerk's office. He learnt to ring aged 15, no doubt keen to follow his father William into the tower, though his father, who ran the smithy in Peach Street, had died several years earlier. When he reached enlistment age Albert joined the 15th Battalion of the London Regiment (Prince of Wales' Own Civil Service Rifles) and was killed in his first action in France on October 7th, at the age of 19.

John Harrison (September 2016)
---